Arriva Italy launches 'Arriva Click IT' booking app for on-demand public transport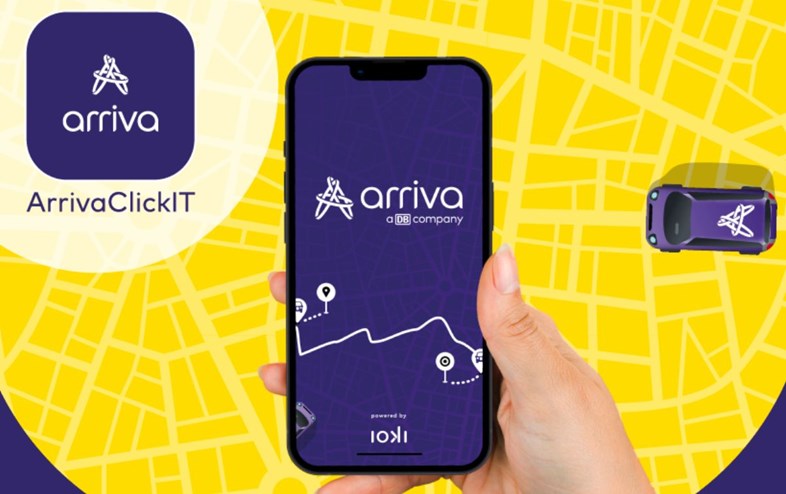 Arriva customers can now use the new Arriva Click IT app to book bus journeys through their smartphones.
The app-based mobility service has been developed by Arriva Italy in collaboration with ioki.
The app draws from Arriva Group's history of innovation across Europe.
Arriva Italy has partnered with ioki, a leading platform provider for digital solutions in Europe, to develop an app-based solution for booking on-demand bus services in the province of Cremona.
The Arriva Click IT app works by grouping passenger journeys with similar start and end destinations to provide 'on-demand' transport solutions, which in turn reduce traffic and congestion on the roads, by encouraging people out of their cars.
In Italy, the on-demand bus operations will be served by Arriva's Stradibus. Previously these services required a telephone call to book now, with Arriva Click IT, the process has been completely digitalised providing a much faster and more convenient way to book and pay for this personalised transport solution, which competes with taxis and the private car.
Passengers enter the starting point and destination on a map and the app automatically calculates the optimal route, showing when a Stradibus is available. The intelligent ioki algorithm forms carpools between passengers with similar journeys so that vehicle capacity can be utilised.
Arriva's partnership with ioki builds on the transport group's experience in digitalised demand responsive transport (DRT), which it first launched with its UK Bus business in 2017. Arriva was the first national bus operator to launch a fully customer-led DRT service in the UK.
Sian Leydon, Arriva's Group Managing Director for Mainland Europe, said, "Innovation is at the heart of Arriva and it's important for us to share successful solutions across our European network so that all our businesses can benefit from being a part of the wider Arriva Group. We developed Arriva Click in the UK and it's great to see how our team in Italy has drawn from that knowledge and expertise to develop a solution that works for Italy. This is one of the advantages of our size and scale, which benefits our clients and passengers across Europe."
This latest launch is just one example of how investing in new technology and digital innovation can support sustainable mobility. The new Arriva Click IT app provides a convenient alternative to using personal vehicles, promoting affordable and more sustainable public transport solutions.
Notes to editors:
ArrivaClickIT is available both on the App Store and on Google play.
Ioki is owned by Deutsche Bahn and is one of the leading platform providers for digital on-demand solutions in Europe.
About Arriva Group
Arriva is a leading provider of passenger transport across Europe, employing around 34,600 people and delivering around 1.5 billion passenger journeys across 10 European countries. We are part of Deutsche Bahn (DB), one of the world's leading passenger and logistics companies. With buses, trains, coaches, trams, waterbuses, bike-sharing systems, and on-demand transport solutions, Arriva proudly connects people and communities safely, reliably and sustainably, delivering these services in a better way, every day. The activities of Arriva are divided into four lines of business: UK Bus, UK Trains, The Netherlands and Mainland Europe. Arriva has operations in the Czech Republic, Croatia, Hungary, Italy, the Netherlands, Poland, Slovakia, Slovenia, Spain and the United Kingdom. For further information: www.arriva.co.uk